New Website for
MUPC
Click the graphic to visit!
There has long been a need for a means to make communication between the eleven established Underwater Preserve organizations a bit easier, and we hope the launch of this website will accomplish that purpose. It will also serve as a tool for education the public about the existence and purpose of the Preserves, and help promote them and facilitate support.
Each separate Preserve has a page showing locations and listing names and depths of the known shipwrecks within their boundaries. There is also text describing the history and amenities of the area. Member access to the News and Calendar pages offers a means to keep the content current.
Story and photos ©2005 J.R. Underhill Communications
Home | Shipwreck Maps | Great Lakes Scuba Diving | Searches | MUPC site | Posters & Photos | Contact Us | Links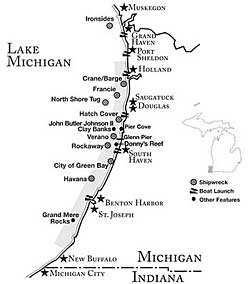 Each Preserves page offers a chart of GPS coordinates and depths of the shipwrecks shown on the map, as well as background history and suggestions for planning a dive in the area.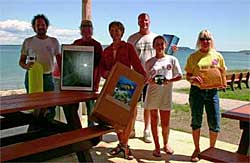 Stay informed of events and news regarding Preserves throughout Michigan, such as this Treasure Hunt (winners pictured here) held in August 2005 by the Straits of Mackinac Shipwreck Preserve in St. Ignace.