Most of the shipwrecks shown in this site lie within or near areas defined by the Michigan Underwater Preserves system.

Isle Royale National Park
• Diving Isle Royale: 1977 & 2010
• America*
• Chester A. Congdon*
• Kamloops*
Sanilac Shores Underwater Preserve
• Mary Alice B.
South West Michigan Underwater Preserve
• Akeley
• Ann Arbor #5
• Hennepin*

Straits of Mackinac Shipwreck Preserve
• Eber Ward
• Newell Eddy
• Sandusky*
• William H. Barnum
• William Young
Thumb Area Underwater Preserve
• Daniel J. Morrell
• Dunderburg
Thunder Bay Underwater Preserve
• Cornelia B. Windiate
• Florida
West Michigan Underwater Preserve
• S.S. Michigan
Whitefish Point Underwater Preserve
• Alex Nimic*
• John B. Cowle
• John M. Osborne
• Samuel Mather
• Vienna
Illinois
• Thomas Hume
Wisconsin
• Lakeland*
• Norman*
Ontario, Canada
• Gunilda

*Under construction. Contact us to be notified of new pages.

Michigan Underwater Preserves System
"The Michigan underwater preserve system was created in 1980 by legislation supported and largely drafted by Michigan sport divers. They took action to preserve Michigan's shipwrecks for later generations. The legislation imposes stiff penalties for disturbing shipwrecks and their artifacts. It is a felony to remove or disturb artifacts in Michigan's Great Lakes. Those caught removing portholes, anchors, chain, deadeyes, blocks or other "souvenirs" will have their boat, car and equipment confiscated and will face up to two years imprisonment and large fines. Divers who have information about the theft of artifacts can report violations to the Michigan Department of Natural Resources at (800) 292-7800."
Larry Sanders, ©2011 Michigan Underwater Preserve Council, Inc. All rights reserved.
Visit Michigan Underwater Preserves website to learn more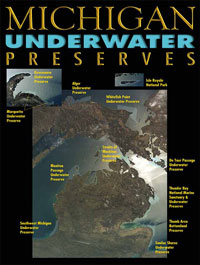 Image courtesy of Earth Sciences and Image Analysis Laboratory, NASA Johnson Space Center
http://eol.jsc.nasa.gov